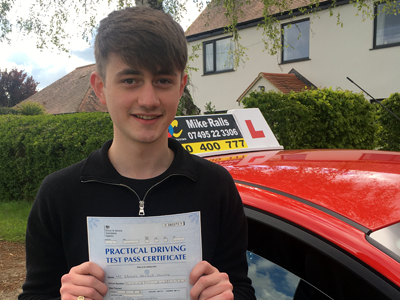 Sam
Delighted to recommend Mike
We are delighted to recommend Mike for anyone learning to drive. Mike is a supportive, patient teacher. He is very thorough and is not just focussed on getting them through a test but instead they come out equipped to deal with a wider understanding of the challenges of driving. Our son has been driving now for over a month and shows himself to be a competent, considerate and thoughtful driver who is alert to issues that can occur. Despite the issues of the pandemic, Mike managed to continue to maintain and build on the skills he had taught our son, despite large gaps between lessons (due to the lockdown restrictions). Our son found him to be an excellent teacher and was grateful to have had lessons with him and he passed with no minor infringements. We will be booking our daughter in with Mike to start lessons early next year when she starts to learn to drive.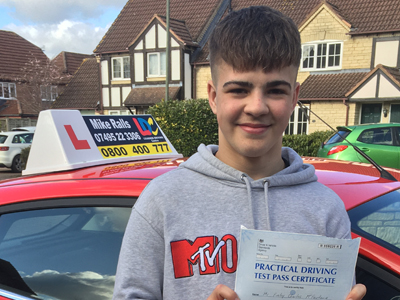 Fin
First time no minors!
Mike is a brilliant driving instructor and I highly recommend him if you are looking to learn to drive he is friendly, approachable and has a very good way of teaching within lessons and explains everything in a way which is easy to understand. He does not make you feel at all overwhelmed or intimidated. I could not fault Mike as an instructor, he is always patient and very good at what he does. As a result of Mike's lessons I managed to get through my driving test first time with no minors!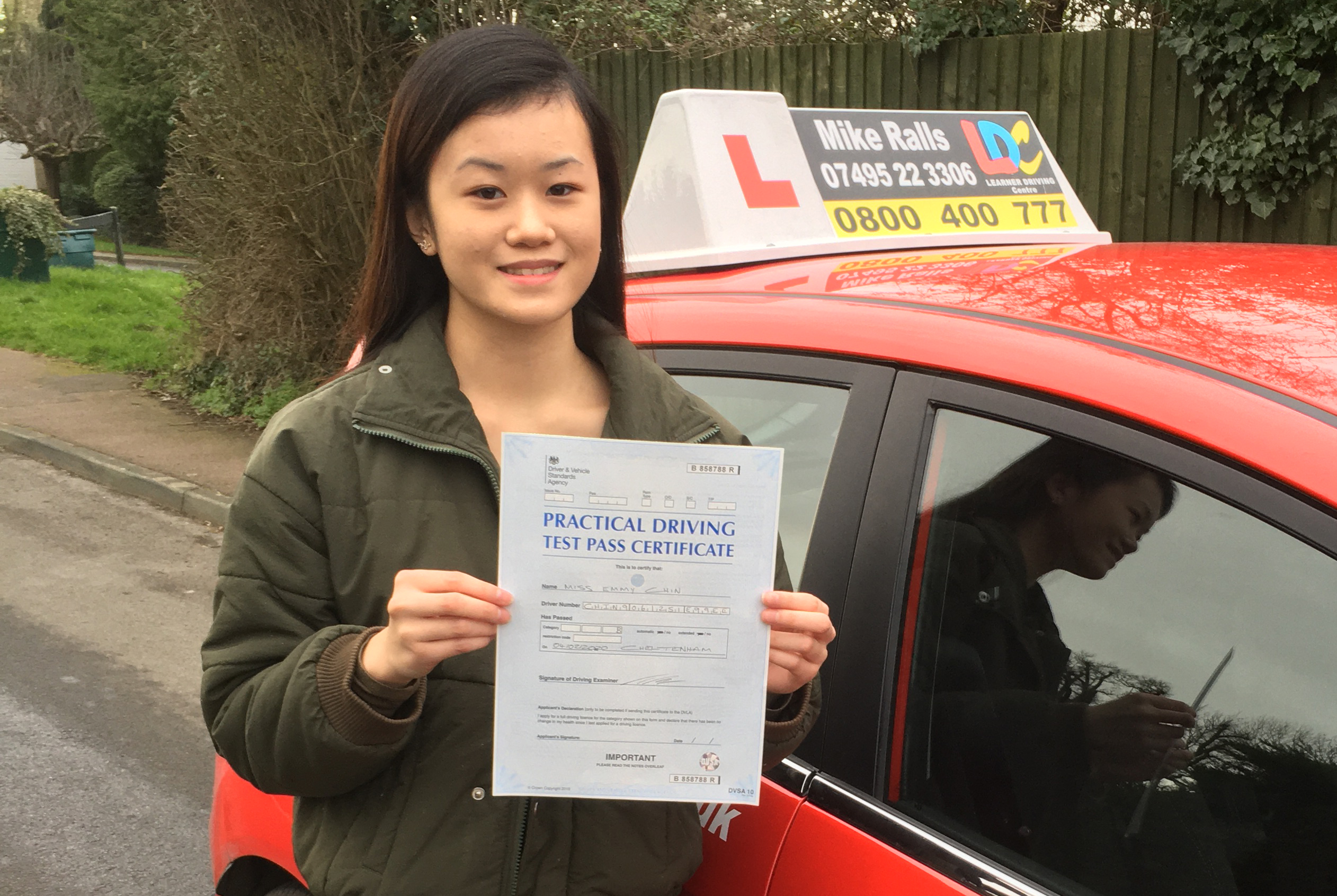 Emmy
The most patient and friendly instructor
Wouldn't go for anyone else. The most patient and friendly instructor out there. Mike is professional and has an amazing knowledge on practical driving. He would always ensure I drove safely and enjoyed my lessons whilst consistently giving tips and advice for improvements. There wasn't anything I disliked about his lessons. Everything was perfect. I'm very thankful to have had him as my driving instructor. 100% would recommend.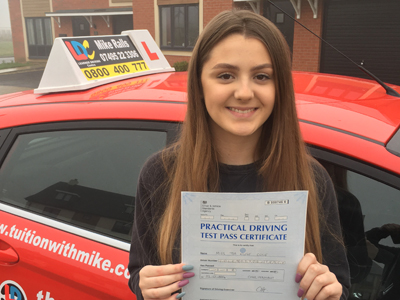 Tia
Fantastic Instructor!
Mike is a fantastic instructor and was always extremely patient and friendly. Can't thank him enough for teaching me everything I need to know to pass my driving test first time. I would highly recommend Mike to anyone! Thank you for all your help!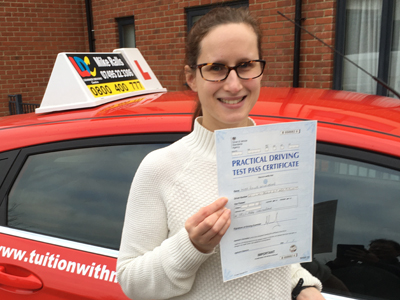 Hollie
Passed first time!
I passed first time after lessons with Mike. I decided to learn after putting it off for several years and I struggled a lot with confidence, but Mike was always patient, encouraging and empathetic. He was happy to go at my pace and work on each part for as long as I needed. I would definitely recommend learning to drive with Mike and I'm looking forward to enjoying the freedom of being a qualified driver. Thank you so much!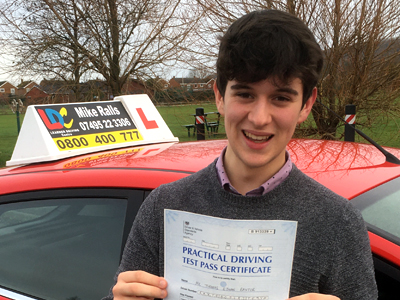 Tom
Very experienced
Thanks Mike! ⭐⭐⭐⭐⭐!!! Thank you so much Mike! Mike is an excellent driving instructor. He is very patient, explains and demonstrates clearly, and makes sure you are always safe. I always went into a lesson with Mike knowing that I'd be making progress as well as having a good time. He is very experienced and this shows through his effective lessons. I thoroughly recommend Mike. Thank you for all your help!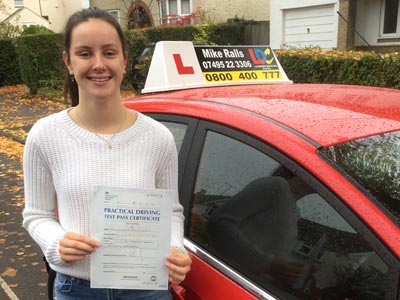 Isabella
Very friendly and patient Instructor
Mike Ralls is a very friendly and patient instructor he always made me feel at ease in difficult situations and was always lots of fun too. I never would have passed through my test first time without him and he is the reason I am the confident driver I am today.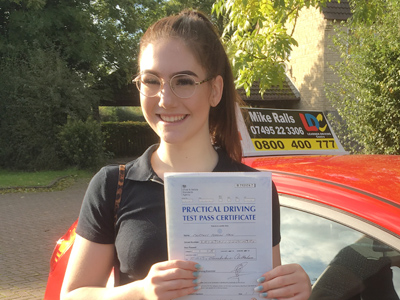 Courtney
Made learning easy and relaxing
Mike was an excellent driving instructor made learning easy and relaxing. Had very thorough lessons! Very enjoyable lessons and covered everything I needed to know at a good pace. He always asked me if there was anything I wasn't sure on making the whole experience comfortable and fun! Thank you SO much! Can't wait for my motorway lessons to come!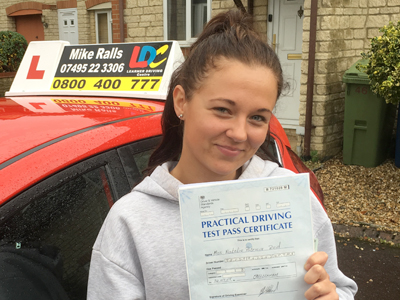 Natalie
Absolutely Brilliant
Can't thank Mike enough for getting me through my driving test! He's absolutely brilliant and has the patience of a saint. I would recommend him to anyone! Thank you Mike!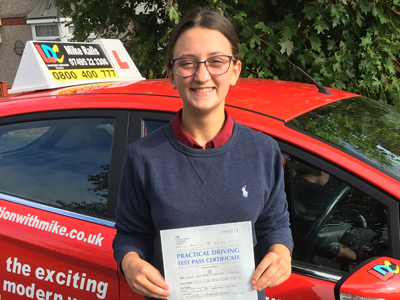 Hannah
Look no further!
If you're looking for a friendly, competent and patient Driving Instructor, then look no further! Mike was wonderful in helping me to make sure I had the right skills to pass my test first time, but also gave me some great tips for safe driving that I will certainly be using for the rest of my life. His teaching style is great and ensures that no box goes unticked so that I knew exactly what would be expected of me on my driving test. Mike was great at teaching me not just to pass your test like other instructors but also going above and beyond and making sure that I was confident and competent enough to drive by myself. A great example of this is the dual carriageway lesson I had which certainly helped me on the fast roads that I regularly have to use.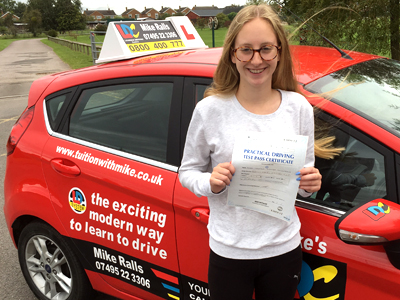 Sophie
An Amazing Instructor!
An amazing instructor! Would highly recommend Mike as an instructor. He works around you and picks up on your worries without you having to say. Gives good little pep talks along the way too!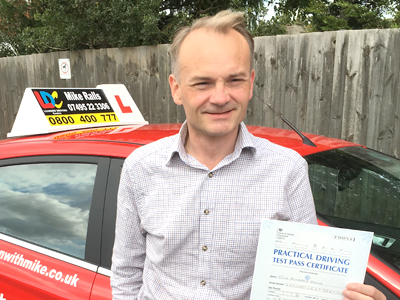 John
Rigorous professionalism with good humour
I cannot recommend Mike Ralls highly enough as a driving instructor. He has a natural talent for teaching this practical skill. He combines rigorous professionalism with good humour and an easy going manner. It was a pleasure to spend the time in the car with him. He communicates the training very clearly and helpfully, with practical examples. He is very willing to clarify things or go over things that were more difficult. His approach was tailored very much to me, the student, and the areas I needed to work on to improve. He was continually focused on improving my driving technique to ensure that I could drive safely and stood the best chance of passing the test if confronted with unusual situations or bad driving by others, etc. Mike took the time to familiarise me with the trickier parts of the Cheltenham roads. He was also a mine of useful information about good techniques, common problems, hints and tips and particular bugbears of the examiners. I know that the care and hard work Mike put in added enormous value in getting me through the test smoothly.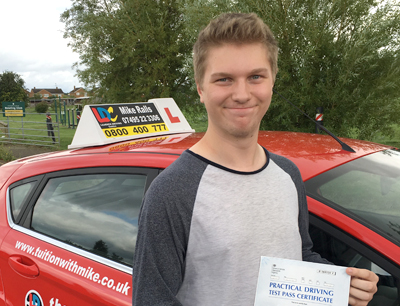 Chandler
Professional tuition and support
I passed my driving test in Cheltenham first time thanks to the professional tuition and support that I received from Mike. He ensured that I understood what was involved in the test and patiently taught me each aspect and manoeuvre with a clear explanation. Mike has a friendly and calming disposition which puts you at ease when you are facing new experiences on the road for the first time while ensuring that you control and drive the vehicle to test standards at all times. I booked two hour driving lessons twice a week for five weeks with Mike which enabled me to settle into each lesson without the unwanted pressure and constraint of time. I would not hesitate to recommend Mike as he will teach you to drive to the standards required by the DVSA which can only increase your chance of passing your test. Thanks again Mike.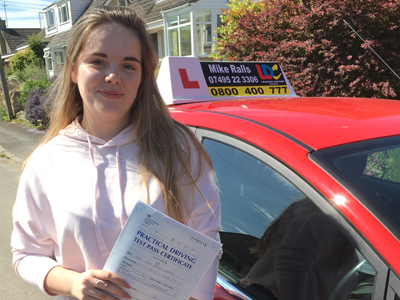 Luca
Couldn't recommend him enough!
Mike is a great driving instructor and I couldn't recommend him enough! He made sure that he could fit driving lessons around my school and home life commitments and worked at my own pace, allowing me to build the confidence I needed to drive independently. By Mike doing this, I was able to pass my test first time. Thank you very much Mike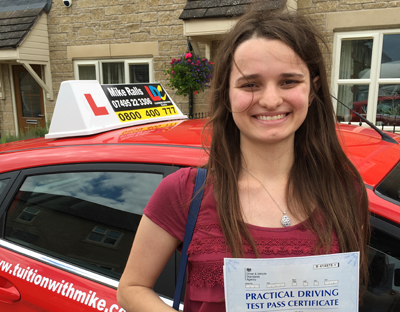 Rebecca
Fantastic Instructor!
Would highly recommend Mike as a instructor! Fantastic instructor who is very patient and helped me to gain the confidence necessary to pass my test after previously failing with another instructor.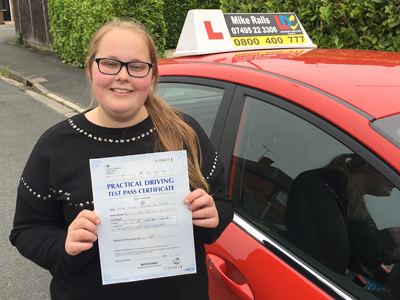 Amy
Friendly, knowledgeable Driving Instructor
Anyone who is looking for a friendly, knowledgeable and flexible driving instructor needs to contact Mike! He helped to make me confident and comfortable about driving not only for my test but independently as well and never tried to push my lessons forward until I was 100% confident in my ability at each stage. Mike was always happy to change and alter lesson times to fit in with my very busy schedule and I thoroughly enjoyed my lessons. I highly recommend him🙂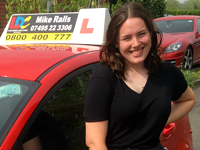 Jess
Taught me how to be safe on the road
Mike really helped me gain confidence and taught me how to be safe on the roads, he also taught me some great driving skills that i'll take with me my whole life.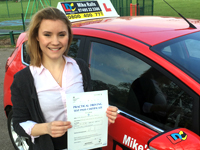 Immy
Couldn't recommend Mike more!
I couldn't recommend Mike more in any way! He helped me learn to drive not only to pass my test but also to be able to drive on my own, and deal with real world driving. He was patient and enthusiastic and mistakes are never wrong as he's always willing to explain how things could be better! He will always find time for you no matter how busy your schedule is or you learning pace. Mike is a friendly and committed instructor who only wants his pupils to learn how to drive safely for themselves and that's why I passed first time with him!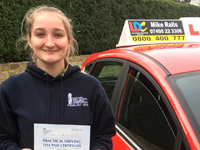 Meg
Patience never seems to run out
Mike is an amazing instructor who helped me to become a safe and confident driver. His patience never seems to run out and he is extremely calm in all situations. I would highly recommend him to anyone wanting to learn to drive and he is so accommodating - even with my busy schedule. He is always so happy and enthusiastic in lessons and this really helped me to gain confidence and made every lesson so enjoyable. Thank you Mike!!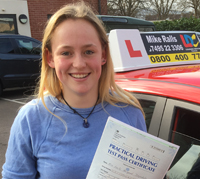 Emily
Great driving instructor!
Great driving instructor! Helped me pass first time which I never thought would happen. Would 100% recommend to anyone who asks. Was always supportive and calm when teaching. Made me very well prepared for my test. Thank you for everything.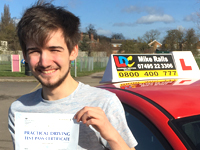 Dylan
Helped me to get a first time pass
Mike is a great instructor, he gets straight to the point but doesn't put so much pressure on you that you start to make mistakes. He's a great guy and helped me to get a first time pass. All in all would highly recommend :)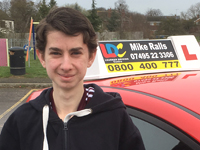 Sam
Patient and thorough...
Mike was always patient with me regardless of the mistakes I made, and always emphasized safety to ensure that I would be able to drive responsibly on my own. I couldn't have passed first time without him and would very much recommend his services.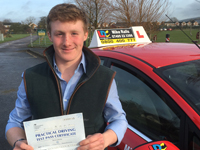 Ethan
Thoroughly enjoyed each lesson
Learning with Mike fitted into my very busy schedule brilliantly, he always managed to find me a lesson no matter what time or day of the week! Thoroughly enjoyed each lesson and he managed to push me till my test resulting in a pass first time, highly recommend!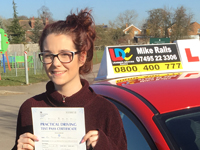 Jazz
Couldn't recommend enough
Mike helped me reach my full potential in driving. Not only did he teach me to drive safely but it was at my own pace and kept me calm when I needed it which helped build so much confidence. 10/10 quality driving instructor, I can't thank you enough.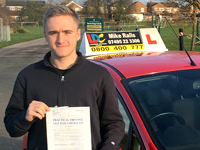 Elliott
Highly Recommend
I would highly recommend Mike as a driving instructor. I had no previous experience driving but he taught me everything that I needed to know. Mike will go above and beyond to help you to make sure you're ready for your test. He will build your confidence and emphasises on driving safely and responsibly. Mike prepared me for everything I might encounter on my test and I passed first time. Thank you Mike !!!!!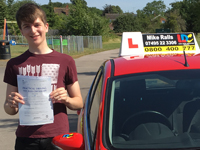 George
Tailored to Needs
Mike didn't just teach me to pass my test, but prepared me for every day driving. Mike was so patient and made me feel comfortable in every situation which is extremely important when learning to drive. My lessons were tailored to my needs and I never felt rushed to learn anything, meaning I could progress at my own pace. I would highly recommend Mike to anyone looking to learn in a calm and enjoyable learning environment.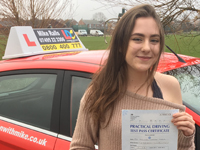 Rachel
Excellent and Friendly Instructor
Mike is an excellent and friendly instructor who makes driving lessons fun. His lessons are well structured, and he is very patient. He took extra time to teach me how to parallel park, which then came up in the test, and I passed first time. Mike is always ready to chat on any topic, and I returned from lessons with a smile on my face, as well as feeling I had learnt something.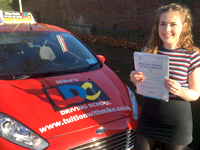 Ellie
Extremely Patient
Mike was an excellent teacher and was extremely patient. He was more than happy to explain multiple times when I was confused and calmly talked me through any maneuvers when I found myself panicking. I looked forward to each lesson, excited about improving my driving skills as I more than anything wanted to pass my test first time, which I did! I would 100% recommend Mike as lots of my other friends have had bad experiences with driving instructors, but I could not name one thing I disliked about my lessons with Mike.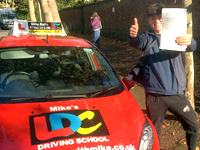 Rhys
Awesome Driving Instructor
Mike is a awesome driving instructor he is patient and knows what he's talking about I think anyone who has him as a instructor will pass with flying colours and anyone would be lucky to have him.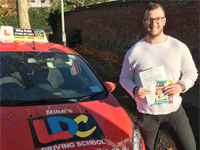 Dale
Can't recommend Mike enough
For anyone looking to learn how to drive then I can't recommend Mike enough. He was very thorough, patient and made me feel comfortable whilst learning. He makes it fun to learn and I am very grateful for all of the help that he has given me.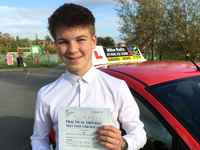 Will
Incredibly Helpful
Mike was incredibly helpful during my driving lessons. He was sure to notify me when I made a mistake and how I can overcome it. I was taught everything in thorough depth without missing anything, I believe this lead to me being able to pass my test first times with only two minors. Mike didn't just focus on the driving aspect, but how do deal with nerves during the exam and the best possible way to prepare for both the theory and practical exams. I would personally recommend mike to anyone who is wanting to have driving lessons and is willing to learn.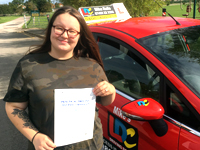 Ashleigh P
I looked forward to every lesson
Learning to drive I had 2 previous driving instructors, mike was my 3rd and he made me feel calm and relaxed whilst driving, I looked forward to every lesson with him as I knew we would be having a laugh but learning valuable driving skills at the same time, 100% would recommend! I never thought would've passed first time! Amazing driving instructor I have no faults! Thank you Mike! 😊🚗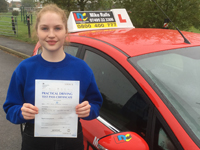 Carys
Prepared me to drive
Prepared me well for my driving test and is always on time. Didn't just prepare me for the test but prepared me to drive.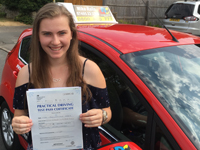 Joh H
Really enjoyed my lessons
I really enjoyed my lessons with Mike and would definitely recommend him. I found he explained things really well, was very generous with his time and made me feel confident in my ability when I went in for my test. Thank you!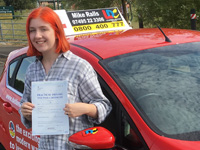 Chrissy W
Great teacher with lots of patience
Mike is a great teacher with lots of patience and he really helped me feel confident in areas that I had previously struggled with. I really enjoyed all the lessons and would definitely recommend him to anyone wanted to learn to drive and have fun doing so.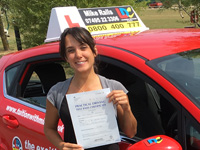 Deniz
Very encouraging and friendly instructor
I passed my practical driving test on my first time. Mike was both my husband's and my instructor. He is very good to teach the essence with the reasons of the rules. He is also a very encouraging and friendly instructor. Apart from the lessons he was easy to communicate and was prompt in his responses whenever we had something in mind to ask. Thank you Mike. 😊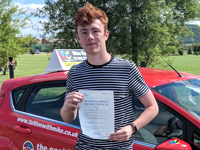 Fraser W
Really nice and fun teacher:)
Thanks for teaching me how to drive and being a really nice and fun teacher:) you really helped to boost my confidence after my last instructor and I thoroughly enjoyed my lessons with you:) Thanks, Fraser
Sam C
10/10 quality driving lessons!
Absolutely would recommend mike to everyone and anyone for 10/10 quality driving lessons! He is the most patient, friendly and calm instructor, whom I am very very grateful for teaching me - to not only to pass my test, but to drive safely for life! Words cannot describe how grateful I am, thank you.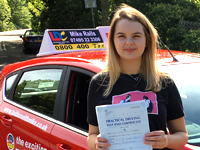 Susan G
Great driving instructor would 10/10 recommend
Great driving instructor would 10/10 recommend, very patient and also challenged me to reach my potential. he was very good at explaining all the information and made sure I understood and was able before moving on, will definitely be recommending him.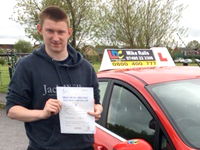 Josh K
5 stars
Mike was a really helpful and supportive instructor. He kept me calm and was very patient when I started to learn to drive which helped me to build up my confidence quickly. Lessons were carefully planned so that I got plenty of practice on the areas where I needed to focus. I would highly recommend Mike as a driving instructor.
Alex R
5 stars
5 stars Thank you very much to Mike for teaching me how to drive! Mike is very friendly and supportive as he gives constructive advice on where you can improve which helped me build my confidence. He is also very patient which helped especially in my first few lessons. Providing two hour lessons is fantastic as it allows you to cover plenty of miles to include dual carriageways and various town centre driving. The two hours also allows Mike to explain the lesson in depth. Most importantly, Mike puts you in challenging situations near to test to simulate what it will be like. He not only teaches you how to pass the test, but makes you feel safe and confident for driving into the future. I would thoroughly recommend Mike as your driving instructor.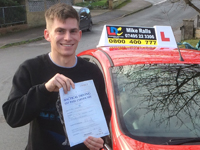 Matt C
5 stars
Hands down best instructor in the business. Thoroughly recommended Mike, you won't regret picking him as your instructor.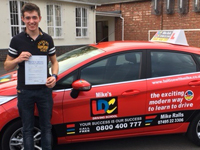 James D
5 stars
Mike was excellent! He knew exactly what to teach and how to teach it. He taught me all of the necessary manoeuvres very well so I was confident in my ability to carry them out. Mike also taught me how to drive correctly and safely to make me a good driver rather than just teaching me to pass a test. Very please and have been recommending to everyone that asks.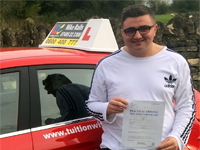 Charlie Fowler
5 stars
With out a doubt I would recommend Mike to anyone, I was so nervous when I started driving but Mike was so welcoming, with most instructors I have heard they are strict and don't give constructive feedback but I find that with mike he will give you good points on a session and things to work on, I find it easy to speak to mike about things that I struggle with and he gives a clear demonstration to help me improve the technique, I have not finished all my lessons yet but I am so happy with the service and support from mike that there is no thought of changing instructors because mike is in my eyes the best instructor in Gloucestershire.
Lulu Stefano
5 stars
Best instructor in Cheltenham..he gave me a trust which i lost ... after 10 yrs without driving !
Rakeem Suarez Ledgister
5 stars
Would have absolutely no hesitation in recommending people to chose Mike as their driving instructor. I strongly encourage people to get in contact with Mike! For a long time I struggled to find an instructor who was able to offer lessons after 5.30pm and on the weekends. Luckily I was passed Mike details who does offer this and it was the best decision I ever made. Very professional and knowledgable. Always offers the best feedback and goes the extra mile to ensure you are learning and driving confidently! Has numerous online tools available to students to help with theory tests also. Amazing lesson structures that really do lead to constant progress being made every lesson. Thankful for all the support and it has been pleasure, Genuinely one of the nicest blokes I've met.